Imagine if you will, a group of us sitting around a table in the basement.  We lean forward in caffeine fueled excitement as information is given to us, looking to one another in disbelief and nervous excitement.  When we're practically on the edge of our seats, palms sweating and shivering in delicious anticipation, LORD Blackie slams the table and yells "DEMOGORGON!"
OK.  So, that's not exactly how it happened.  However, for those of you sticking around with us through the offseason, we posted a few weeks ago about a handful of us who play D&D and were at Dragon*Con.  Arguably, one of the best costumes from the weekend was Alicia Brain's SPOT ON Barb from Stranger Things.  Not to be out-done by our own nerd-ery, we've decided to kick it up a notch this week (as well as continue the theme) with a blog about Derby Demogorgons, an idea from the brain of our very own LORD Blackie.  She describes these as the "skaters who made you quake with fear and terror. Total bad-asses on the track."  So, as some of us wind down into enjoying some off time and others start their cross training for the 2017 season, we take a peek at the skaters that made us train up our fireball spells… I mean, increase our cardio.
LORD Blackie:
I had two:
8 Track (Texas Rollergirls) – I think everyone was afraid of TX in those initial years of flat-track. She was a big, quick, effective blocker who was on the Texas roster of what was Atlanta's first ever interleague game. If you haven't heard the story from Dust Devil where we (me, Tanya, Demi and Roxy) tried to sneak a bottle of tequila to them before the game…she is the skater who busted us as we rolled up in our rental van. Just as menacing off the track.
Witch Baby (Texas Roller Derby) – Huge, bank track skater. This girl was over 6 feet tall and laid me out flat on the 106 degree Vegas concrete at the very first rollercon. It was the first jam of one of my first non-ARG scrimmages. I promptly hobbled off the track with my lady bits in my hand and decided I'd much rather drink frozen drinks at the pool than scrimmage Amazons. 
Quadratic Abrasion:
To this day below is one of my favorite hits of all time. Beyonslay pretty much put Gotham on the map by taking out the reigning jammer badass, Rice Rocket from TXRG, with her famous "slay ride:"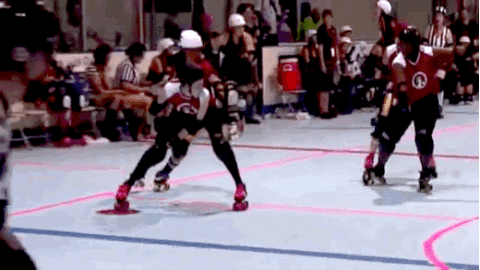 Nothing is more terrifying than a woman of that size as agile and nimble as any jammer coming to steal your soul.
Rosie Derivator:
Funny enough, one of my first ones was Queen.  Atlanta was my first away game as a baby IL skater with Dominion [Derby girls in 2009] and I'd been warned to stay away from her as one of the strongest players in the game.  I'm not surprised she was one of my first big layouts (if the not THE first) after transferring into Atlanta.
Also, having spent most of my active travel team time in Jacksonville, Florida teams were always our biggest contenders.  For the longest time, Tally was our "team to beat," and for most of those years, we couldn't do it.  That being said, no matter how many times we played them, LaVoodoo was always terrifying to me.  Between being so much taller than me, having an incredibly solid stature that she knew how to use AND that face paint, I avoided her at all costs, haha.  Watching her play at Bs champs just confirmed to me that she is a powerhouse on the track.
LORD Hurtie:
Skate Outta Compton.
When I sustained my first full on hit from her, I literally thought to myself (through the stars I was seeing) "I have arrived. I got hit by Compton and didn't die (or cry). I am now a full fledged rollergirl."
Pearl Reckless.
She just plain out hurt you all the time. 
And, of course, Queen.
How can you not be terrified of this stare down (knowing what you're in for once she gets you):

LORD Ida:
[Refered to this conversation as:] Why I skate with
Queen
instead of seeing a therapist?  There is nothing better than having the worst day ever and actually looking for her on the track to take a beating from.
Yeah, I am a little different in how I approach things, but we all knew that.

Since I do not do a lot of high level IL I do not have too many Demogorgons. But one time I was at the WFTDA BW Scrimmage at BeachCon 1.0 while still a newbie skater at another league and Sx was so nice and said come skate with us (her, Quad and I think Lunch Lady). At that point we still took a knee and would look up at the jammer (yeah like that's at all threatening-why did blockers get all subby on the floor and look up at their prey-it always felt wrong-but I digress). I looked up and then back down at Quad and said, "Oh Crap" and something to the effect of it's
Bonnie Thunders
. The following year, I was all I got this shit when I blocked against her. The third year I jammed against her (you know because by then I was a jammer) and she made me skate the whole 2 minutes while I cat called at her the whole time to try and frustrate her and get her to call it off. [Quad than goes on to say: No lie, one of the hardest hits I've ever ever EVER taken was skating backwards in one of those scrimmages when Bonnie hit me square in the sternum. She launched me into the air and backwards and then turned around to apologize as she sprinted away. There's a reason that woman is my favorite.]
Queen (as the most named Demigorgon amongst ARG skaters) wraps up a fantastic conversation by saying "This exercise should be fun for all of us  
. Because it really speaks to our strength as players that although we acknowledge we have a derby Demogorgon, the fact that we still lace up against them makes us AMAZING."
Who is your Derby Demogorgon?  Have you been able to face them head on and survive?  We'd love to hear about it in the comments!  ALSO, in case you hadn't heard, we may have your opportunity to face your idols and rivals right here in Atlanta!  Sign up for our Happy Thanks-Hitting scrimmage and get a chance to play against some of the best skaters in the region!  We hope to see you there!
"This post was modified on Nov. 16, 2016 to adjust appropriate language and adhere to the Atlanta Rollergirls PR Guidelines. Thank you."